You may not realize it, but Facebook doesn't indicate you a chronological series of the most recent affixes from your best friend and "liked" pages when you tour News Feed. Instead, the social network uses an algorithm to determine what it thinks you'll want to see and shows you that.
If you'd like to exert a bit more control, there's a quite obscured road to make sure your favorite people and sheets ever appear at the top of your feed. You can do it on your computer or your smartphone.
On A Computer
To select which Facebook posts you ensure firstly on personal computers, firstly go to a friend's sketch. You'll learn a button that answers "Following" next to their name and at the bottom of their cover photo. Click on that, then adopt "See first."
If you want to see posts from "liked" symbols at the top of your feed, there are a duo more gradations. Move to the page you're very interested in, then sounds the button that remarks "Liked." Then, click "Posts in News Feed." From there, select "See First" and save your changes. Poles from your label of choice will now surface at the top of your News Feed. Congratulations: You just made a social media editor awfully, very happy.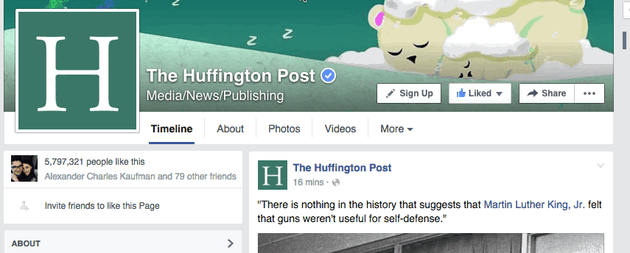 Posts from people and sheets you've asked to "See First" should now surface among the priorities of your News Feed at facebook.comwith a bit blue-blooded stellar next to them.
On A Smartphone Or Tablet
Selecting which Facebook affixes to investigate first is actually even simpler on a portable machine. Open the Facebook app, going to see your friend's page, tap "Following" and select the "See First" option on the window that sounds up.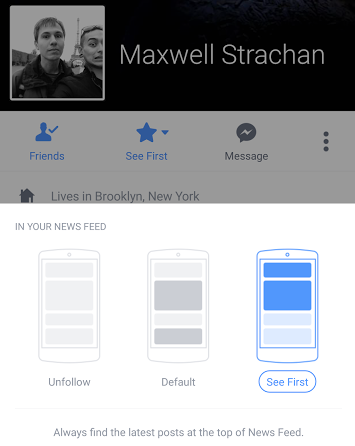 Unlike the desktop account of Facebook, the process is exactly the same for pages you like: Disappear to the sheet, tap "Following" and hand-picked "See First."
Why Bother?
If you're ever frustrated that your News Feed seems like a glut of sillines from beings and sheets you don't really care about, it's merit taking the time to manually select what the hell are you "See First." You won't miss it when your friends berth something, and the top of your feed will theoretically be fitted with the stuff you want to spend time with. Facebook allows you to select up to 30 beings or pages to "See First, " so go nuts.
Remember, though, that the social network will still keep track of what the hell are you interact with in hopes of purifying your demeanor down to a discipline. You can help it understand what you care about, but you're still feeding it more cherished data covering yourself. Enjoy!